View product
Thermal Scope ATN MARS LT 160 3-6X
1,249.00

€
Versatile and lightweight MARS LT 160 3-6X riflescope - with Obsidian Core LT processor (160 x 120 px / 17 µm 60 Hz), automatic correction of the positioning of your reticle on the target (after a first shot). The processor's ballistic tables support most calibers on the market, from .22lr to .338 for versatile use, on all your rifles.
Add to cart
Add to cart
View product
Holosun AEMS GR (Green Dot)
499.90

€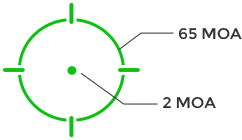 Red dot (GREEN illumination) for rifles, tactical frames and long guns Holosun AEMS GR – 65 MOA circle & 02 MOA dot, in a solid aluminum case (type 3 anodized finish) mounted on a multi-layer glass for optimal transmission light, with transparent covers (front and rear).
Add to cart
Add to cart
View product
IMI DEFENSE KIDON K21 for Canik – folding stock
585.00

€
IMI DEFENSE Kidon K21 modular conversion kit – for Canik TP9 pistols – TP9SFX | TP9SF| TP9SA| TP9SF ELITE-S| TP9SF ELITE| TP9SF ELITE COMBAT – in its version with folding stock. Ambidextrous – change from right-handed to left-handed in seconds – ergonomic, extremely rugged (tested in combat and under extreme conditions)
Add to cart
Add to cart
OUR BRANDS
In a war, what happens is never what you expected. So what matters is morale!
General Marcel Bigeard